What's New
2014-7-24
Learning Cantonese is a Piece of Cake?
学广东话话
易?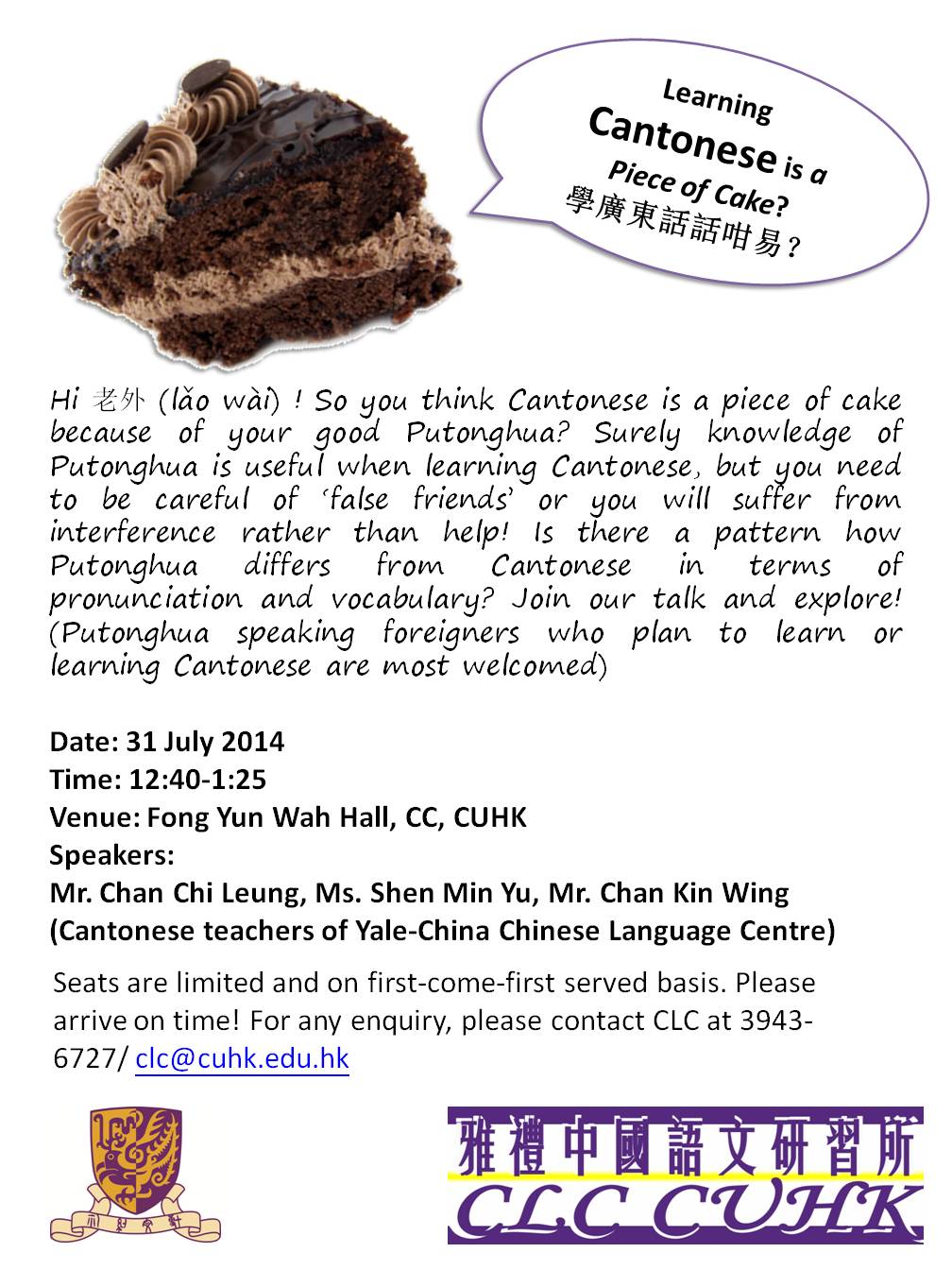 Hi 老外 (l
o w
i) ! So you think Cantonese is a piece of cake because of your good Putonghua? Surely knowledge of Putonghua is useful when learning Cantonese, but you need to be careful of 'false friends' or you will suffer from interference rather than help! Is there a pattern how Putonghua differs from Cantonese in terms of pronunciation and vocabulary? Join our talk and explore! (Putonghua speaking foreigners who plan to learn or learning Cantonese are most welcomed)

Date: 31 July 2014
Time: 12:40-1:25
Venue: Fong Yun Wah Hall
Speakers: Chan Chi Leung, Shen Min Yu, Chan Kin Wing (Cantonese teachers of Yale-China Chinese Language Centre)

Seats are limited and on first-come-first served basis. Please arrive on time! For any enquiry, please contact CLC at 3943-6727/ clc@cuhk.edu.hk

Follow us on Facebook: CLCCUHK






2014-01-02

2014 HSK test in CUHK - March 16 and December 6


March 2014 test registration for HSK level 1 to 6, together with all levels of HSK speaking tests, opens from 1 January 2014.
Test registration will close at 17 February.
More information




2012-9-12

2012-13 1st week of Web Enhanced Teaching for International stuidents

Web-based learning of Chinese language course will not be started from week 1, please attend the lecture and our instructor will inform you the exact dates of lab sessions held at language laboratories during class.

For any question, please contact us at 3943-8224/ 3943-5925.

Thank you for your attention.

University Programme Division (UPD),

Yale-China Chinese Language Center (CLC)

2011-3-17

The 2011 CLC Spring Party was held on March 4. Over 100 students from Putonghua Programme, Cantonese Programme and University Programme Divisions performed at the event including chorus, poem recital, short play and dancing. Photos are available at http://www.cuhk.edu.hk/clc/11_springparty.htm Enjoy!