1. Functionalization of Carboranes: Development of Synthetic Methodologies
Multi-Component Reactions
Multi-component reactions are a powerful strategy to assemble complex molecules from very simple precursors in a single operation. While this is an attractive approach, achieving selectivity among different components remains a great challenge. We are developing new methodologies using different transition metals to control the chemoselectivity and regioselectivity to assemble the target molecules.

Carboryne Chemistry
Like the importance of benzyne in modern synthetic chemistry, 1,2-dehydro-o-carborane (o-carboryne), a three-dimensional relative of benzyne, can be utilized as a powerful synthon for generating a wide range of functionalized o-carboranes via different types of reactions. We are developing new and efficient carboryne precursors and exploring their new reactivity patterns.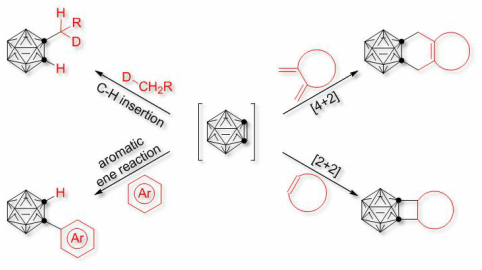 Selective Cage B-H Activation
Carboranes are a class of boron hydride clusters in which one or more of the BH vertices are replaced by CH units. They are finding many applications as boron neutron capture therapy agents in medicine, as building blocks in nanomaterials, and as versatile ligands for transition metals, however, their unique structures make derivatization difficult. In view of the widespread use of transition metals in synthetic chemistry, we are developing transition metal-catalyzed synthetic methods for the functionalization of carboranes via cage B-H activation.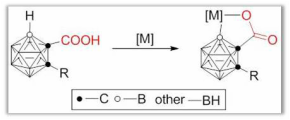 2. Carborane-Functionalized Materials
o
-Carboranes are promising building blocks for n-type organic semiconductors because they are highly electron-deficient cages with a van der Walls radius of ~4.0 Å. The highly electron deficient nature of carborane moiety can be used to convert a p-type semiconductor to an n-type semiconductor by lowering the LUMO energy level. On the other hand, the van der Walls radius of carboranes is the same as the typical distance between two closely stacked π-planes, which can modify the crystal packing of π-molecules. We are developing strategies to incorporate the carborane moiety to a semiconducting π-backbone with different covalent linkages for the preparation of carborane-functionalized π-molecules designed as potential organic semiconductors.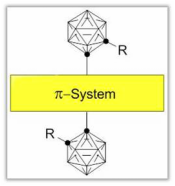 3. Small Molecule Activation
S
elective and sustainable transformation of small molecules
such as N2, CO, CO2, N2O and NO
into high-value chemical feedstocks are
of fundamental importance both in basic research and industrial application. Among these molecules, the activation of dinitrogen is a longstanding challenge in chemical research since it is extremely stable and generally resists coordination unless certain reaction conditions are met. We are developing carboranyl supported transition metal hydrides systems for the activation and transformation of small molecules, in particular N2 on the basis of following understandings:
(1) hydride ligands in metal hydride complexes can serve as the source of both electron and proton, (2) transition metals with variable stable oxidation states are preferable in the activation process, and (3) nature of metals and ligands has strong influence on the outcome of the reactions.

4.
Supercarboranes
The chemistry of boron clusters has been dominated by icosahedral carboranes over half a century. Only in recent years has significant progress been made in the chemistry of supercarboranes (carboranes with more than 12 vertices)
.
A number of 13- and 14-vertex carboranes as well as their corresponding 14- and 15-vertex metallacarboranes have been successfully prepared and structurally characterized. We are developing new
synthetic methods to prepare carboranes having 15 vertices or more, and exploring systematically the rich reaction chemistry of supercarboranes on the basis of our previous achievements.


Copyright 2020 ©
Department of Chemistry
,
Faculty of Science
,
The Chinese University of Hong Kong
. All Rights Reserved.
​Disclaimer
​
The contents of the Center of Novel Functional Molecules website is subject to change without notice. The University accepts no liability for any loss or damage howsoever arising from any use or misuse of or reliance on any information in this website.
Privacy Policy
Personal Information Collection Statement.
When you visit this website, we will have record of your Domain Name Server address and the pages you have visited. This information may be used by us for statistical purpose only.
Policy on Personal Data.
For the University's policy on personal data, please click
here
.