Community Service
NGO Partners:
the Salvation Army
Hong Kong Society for the Aged
Tung Wah
Evangelical Lutheran Church Social Services, HK
---
Hip Protector pants
Hip protector and shorts were designed for Chinese subjects, whereas the material was tested for strength and compliance, and cost effectiveness was evaluated in elderly subjects in institutional settings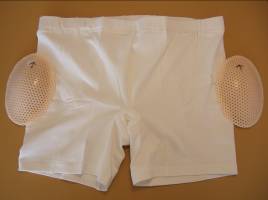 ---
Telemedicine
More than twelve elderly centres, with around two thousand elderly people benefited from the service since video consultation and treatment were carried out in Shatin Hospital
Potential benefits: to reduce the time taken by elderly people to visit hospitals due to minor illness as well as to reduce hospitalization rate
---
Chronic Disease Self Management Programme (CDSMP)
Using self-management techniques to deal with physical and emotional problems associated with chronic diseases
Existing programmes with various organizations such as Salvation Army, Hong Kong Society for the Aged, and ELCHK were carried out. A collaborative activity programme with Catholic Cathedral Parish Pastoral Council & Caritas Elderly Centre was being implemented in January 2007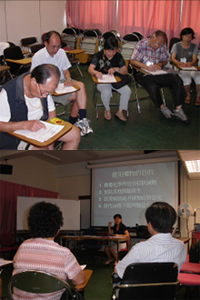 ---
Falls Prevention Programme
Evidence based Falls Management Exercise Programme (FaME) which is currently held in Shatin Hospital for the elderly people who have attended Accident & Emergency (A&E) dept with incidence of falls
A Fall Assessment Clinic was held in PWH since Aug 2006 for those who were admitted to A&E dept with incidence of falls: Collaborative project with Academic Unit in A&E dept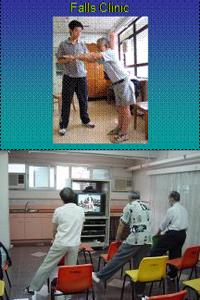 ---
Falls Prevention Programme
- Falls Management Exercise Programme (FaME)

Eight classes of the 36-week evidence based FaME have been held in the Tai Po Cadenza Hub since July, 2010. About 50 community-dwelling older people with a high risk of falling have joined the programme. Positive feedbacks were received from the participants. The first two classes were successfully completed with a graduation party held in May, 2011.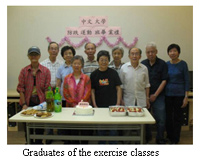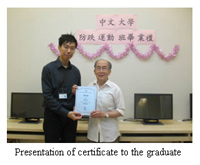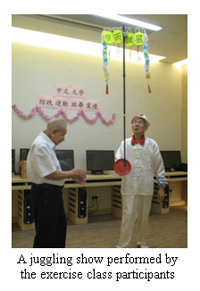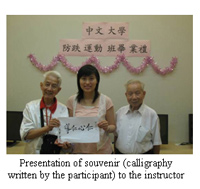 ---