Conferences
>> About Us
In order to promote the discipline in Hong Kong, the Research Institute for the Humanities (RIH) of The Chinese University of Hong Kong (CUHK) came to an agreement with the Islamic Cultural Association (Hong Kong) on 31 July 2013. With sponsorship provided by the latter under the agreement, RIH launched the 'Islamic Studies Initiative' (ISI) on 13 September 2013. On 12 May 2015, ISI was approved by the management of the university to become the Centre for the Study of Islamic Culture (CSIC).
>> Contact us
TEL:
(852) 3943-9580
(852) 3943-4785
ADD:
LG13I, Leung Kau Kui Building, The Chinese University of Hong Kong, Shatin, New Territories, Hong Kong
International Conference on Islamic Arts in Intercultural Perspective in conjunction with Workshop on Ethnographies of Islam in China
Release time:2016-3-22 11:30:56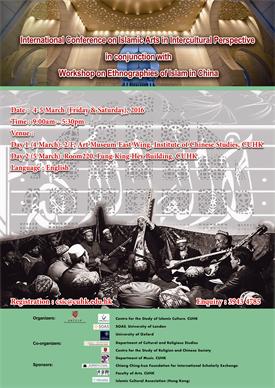 Download:Conference Brochure||Dr. Yuka Kadoi, 'Does Islamic Art exist in East Asia'
Dates: 4-5 March 2016 (Fri & Sat)
Venues: Day 1 (4 March): 2/F, Art Museum East Wing, Institute of Chinese Studies, CUHK
Day 2 (5 March): Room 220, Fung King Hey Building, CUHK
Organizers: Centre for the Study of Islamic Culture, CUHK
School of Oriental and African Studies (SOAS), University of London
University of Oxford
Co-organizers:Department of Music, CUHK
Department of Cultural and Religious Studies, CUHK
Centre for the Study of Religion and Chinese Society, CUHK
Sponsors: Chiang Ching-kuo Foundation for International Scholarly Exchange
Faculty of Arts, CUHK
Over the centuries, Islamic artistic traditions have been shaped by the transnational movement of Muslims, and their engagement with the societies and cultures that Islam penetrated as it spread from one region to the next. In turn, local arts assimilated and were adapted to suit and communicate the basic religious values of Islam, and to represent new forms of Islamic society and polity. The scholarship presented and discussed at the conference will both catalogue and analyse artistic practices and traditions from a range of theoretical and methodological perspectives, to offer insight into how arts help us document historical processes in the growth of Islamic civilization, understand contemporary developments, and perhaps forecast future changes, within and beyond the global Muslim community.
On the other hand, in recent years, the topic of Islam in China has become of greater interest to policy makers and academics. While transnational Islamic movements may have been slow to penetrate China, there is now little doubt of the rising global connectedness of Muslims in China, nor of the changes that are occurring in Islamic religious beliefs and practices, nor the challenges which they pose for the state. These developments are occurring against a backdrop of great diversity in local histories of transmission, socio-economic factors, language and life-ways. Many of these diverse local practices are currently under pressure from the forces of change. What insights can ethnographic research bring to the nature and ideology of this changing religious practice? What new perspectives can be gained from fieldwork-based approaches to religious experience and meaning? A growing body of work in the Anthropology of Islam brings these perspectives and methods to bear on Islam in the Middle East and Southeast Asia. The "Workshop on Ethnographies of Islam in China" seeks to bring these new theoretical and methodological developments into productive dialogue with current work on Islam in China.
This forthcoming joint-symposium aims to facilitate the dialogue and future collaboration between scholars researching into in these two related areas with their respective approaches.
(Photos)