Activities
>> About us
In order to promote the discipline in Hong Kong, the Research Institute for the Humanities (RIH) of The Chinese University of Hong Kong (CUHK) came to an agreement with the Islamic Cultural Association (Hong Kong) on 31 July 2013. With sponsorship provided by the latter under the agreement, RIH launched the 'Islamic Studies Initiative' (ISI) on 13 September 2013. On 12 May 2015, ISI was approved by the management of the university to become the Centre for the Study of Islamic Culture (CSIC).
>> Contact us
TEL:
(852) 3943-9580
(852) 3943-4785
ADD:
LG13I, Leung Kau Kui Building, The Chinese University of Hong Kong, Shatin, New Territories, Hong Kong
Information Session:THE STUDY OF ISLAM @ CUHK
Release time:2020-11-28 11:30:56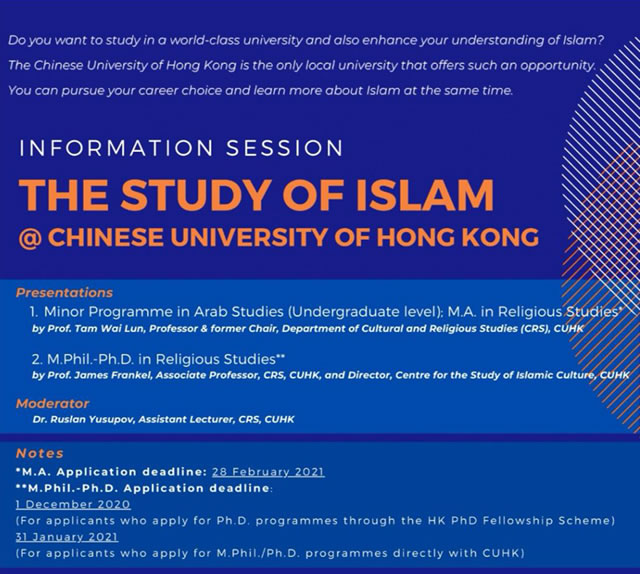 𯎓 Do you want to study in a world-class university and also enhance your understanding of Islam?


𯓖 The Chinese University of Hong Kong is the only local university that offers such an opportunity.


𯒼 You can pursue your career choice and learn more about Islam at the same time.


Centre for the Study of Islamic Culture, CUHK, presents to you


Information Session:


THE STUDY OF ISLAM @ CUHK


Presentations:


1. Minor Programme in Arab Studies (Undergraduate Level); M.A. in Religious Studies
by Prof. Tam Wai Lun, Professor & former Chair, Department of Cultural and Religious Studies (CRS), CUHK


2. M.Phil.-Ph.D. in Religious Studies


by Prof. James Frankel, Associate Professor, CRS, CUHK and Director, Centre for the Study of Islamic Culture, CUHK


View the Information Session's video-record, please click here :