Impact of Climate Change on Public Health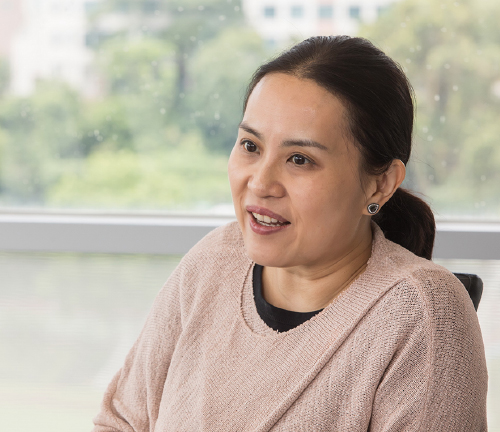 "Climate and environmental changes such as warmer climate, altered precipitation levels and rising sea levels will have a major impact on public health, and we will have to change our habits and lifestyle in order to survive," says Professor Emily Chan Ying-yang (1), Director of the Collaborating Centre for Oxford University and CUHK for Disaster and Medical Humanitarian Response (CCOUC).
Equipped with advanced infrastructure and information system, Hong Kong is relatively well prepared to handle natural disasters, and very few people suffer injuries from such events. Perhaps for this reason, fewer Hong Kong citizens are aware of the risks than their counterparts in other cities such as Tokyo. Professor Chan explained, "In our survey, 87% of the respondents do not believe that the city is highly susceptible to natural disasters. Only a quarter of them have received basic training in first-aid, but in some cases their qualifications have already expired."
Is Hong Kong as safe as its citizens think? Unfortunately not. According to the "Lloyd's City Risk Index 2015–2025" (2), Hong Kong ranks seventh among 301 major cities for its exposure to natural hazards. "How do you get access to water if the water supply is breached? An individual needs 15 litres of water per day and so a family of five needs 75 litres of water daily. Can you get 75 litres of bottled water from the convenience store? Maybe it is possible for one day, but what about the day after?" said Professor Chan.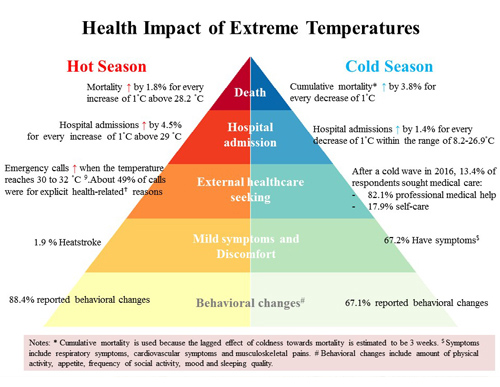 Some may think that such fears are groundless. But remember what happened in August 2017 when Severe Typhoon Hato battered Southern Asia. Typhoon Hato triggered flooding and seawater intrusion in various parts of Hong Kong and caused chaos in Zhuhai. Macau experienced water and power outages, and several people were injured and eight died. "The government's response to natural disasters is certainly important, but whether the citizens have ever considered self-help under such circumstances is of equal importance," Professor Chan emphasized.
Instead of passively adapting to the environment, modern technologies enable us to predict and prepare for future climatic and social changes. "There is a lack of relevant local research on climate change and its impact on public health. As foreign research may not apply to our situation, we have undertaken a series of studies to enhance understanding of climate change among the general public," said Professor Chan.
Reinforcing Hong Kong's resilience in combating climate change is easier said than done. Professor Chan advocated three ways for the government to invoke changes. The government should first step up its promotional efforts to inform citizens about natural hazard risks and risk reduction measures. Secondly, it should introduce knowledge about disaster preparedness and public health into school curricula. Last but not least, it should provide support to local institutions, so that they can conduct research in order to help policy makers formulate better strategies. By making the data publicly available, neighbouring regions can benefit as well.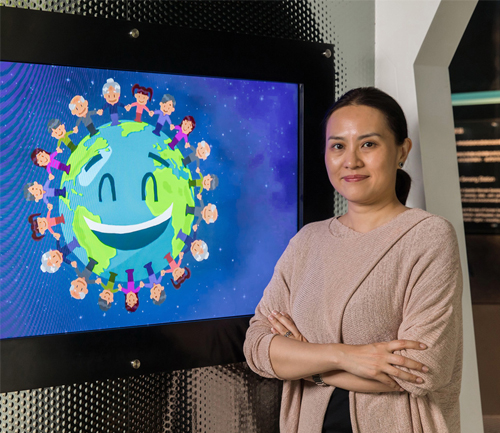 Professor Chan has always been looking for opportunities to share the research results with the community, but she found that explaining difficult scientific concepts in terms that laymen could understand was a serious challenge. "Bridging the gap between scientists and the general public is the key. There is no point in what we are doing if the public does not recognize the importance of our research. CCOUC is collaborating with the Jockey Club Museum of Climate Change to launch a new permanent exhibition to showcase the impact of climate change on public health. With the aid of videos and interactive exhibits, the notion of 'health co-benefits of carbon-reduction behaviours'—carbon-reduction behaviours that are also beneficial to health will be illustrated," said Professor Chan.
To improve the local environment, CCOUC will continue to conduct research on climate change, in particular its influence on precipitation and associated issues such as flooding, water supply, mosquito populations and epidemic dynamics. Its researchers will also evaluate the awareness of disaster prevention among Hong Kong citizens on a regular basis and propose measures to enhance awareness if the result is unsatisfactory.
The "Impact of Climate Change on Public Health" exhibition was launched on 30 November. Please visit the Museum website for further information including opening hours and reservation of guided tours: http://www.mocc.cuhk.edu.hk/en-gb/plan-a-visit.
Notes
Professor Emily Chan Ying-yang is Assistant Dean (Development) of the Faculty of Medicine, Professor and the Associate Director (External Affairs and Collaboration) of the Jockey Club School of Public Health and Primary Care, Director of CCOUC, Director of the Centre for Global Health of The Chinese University of Hong Kong. She is also a Visiting Professor of Public Health Medicine at the Nuffield Department of Medicine of University of Oxford, Senior Fellow at Harvard Humanitarian Initiative of Harvard University and Honorary Professor at the Li Ka Shing Faculty of Medicine of the University of Hong Kong.
A study conducted by the Cambridge Centre for Risk Studies at the University of Cambridge Judge Business School to assess the risks and resilience to natural threats faced by 301 major cities around the world. Source: https://www.lloyds.com/cityriskindex/threats/natural.